Multilingual Translation Service
You Can Then Proceed to Print, Edit, Translate, Audio Conversion & So Much More
Provides users easy to use, high-speed scanning. Restore old, faded photos and documents with patented software. Multilingual Translation Service up to100 languages, text and audio. ABBYY® Fine Reader Embedded OCR engine recognizes 192 languages.
Multilingual User Interface
The accessibility feature makes it easier for visually-impaired users to use the station by utilizing the following features:
Magnier—Enlarges part of the screen so the user can see words and images better.
Narrator— A screen narrator reads aloud the text that appears on screen along with any audio descriptions.
High Contrast—Utilizes a high contrast scheme for easier visibility.
The ScanEZ Station multilingual interface allows users to switch on-screen text to one of 21 different languages.
Arabic
Chinese
English
French
German
Persian
Greek
Hebrew
Hindi
Italian
Korean
Polish
Tagalog
Swiss French
Swiss German
Swiss Italian
Vietnamese
Portuguese
Russian
Spanish
Swedish
Breaking Down The Language Barrier
Multilingual Translation Service to Text & Audio – Converts documents, scanned or uploaded, in one language to another language of the user's choice with 100 languages to choose from using either Google or Microsoft Azure Cognitive Services. The converted scans are sent as Microsoft Word file and a translation subset for MP3 audio file conversion that can be sent to any of the ScanEZ "scan to" locations. Our catalogue of languages is constantly growing.
ABBYY® Fine Reader – OCR supports 192 recognition languages in all combinations.
Translation Service – Translate a scan to one of up to 100 supported languages. The converted scan is sent as a PDF or Word File and a subset of languages for MP3 audio file conversion to any of the destinations above. System-wide annual cost.
True Copy Function – Provides user with an easy way to utilize the ScanEZ Station as a copier replacement including reduction and enlargement capabilities.
Automatically straightens image onto paper
Scanned images can automatically be changed and viewed from color to grayscale, black and white without having to rescan
Automatically view scanned image on different paper sizes
Easy to select single-sided or double-sided output
View Fit-To-Page in real time
Crop and view images
Enlarge or reduce with easy-to-use sliders and quickly view before output
Scan IDs (front and back) and print to a single page
Multiple copies
Resolution – Change the resolution of a scan from standard resolution to high-quality resolution, or from high-quality resolution to standard resolution

Colour Mode – Scan items in Black & White, Grayscale or Photo Colour

Page Arrange – Easily reorder pages by dragging and dropping the pages into the desired order

Fit to Page – Resize the scanned item to t on a standard A4-size page

Actual Size – Maintain the aspects of the originally scanned item

Horizontal or Vertical Split – Pages can be split either horizontally or vertically by positioning the division bar at the dividing point

Simplified Reduction Enlargement
VividPix - Patented Technology
The ScanEZ station applies patented image science to enhance photos, documents, newspaper articles, digital photographs and more. 1-click technology improves your images, restoring and reviving your memories and history.
 Old Photos, Newspapers, Documents and Books
• AI (Articial Intelligance) analyzes every image
• Adjusts color, contrast, lightness and sharpness
• Nine color-corrected images are presented to pick which image looks the best to the user
• The original and restored images are presented side-by-side to review
• The image can now be retuned with easy-to-use sliders
• Automatically adjusts what Adobe manually corrects (with layers and curves)
• Easy to use…one touch or single button corrections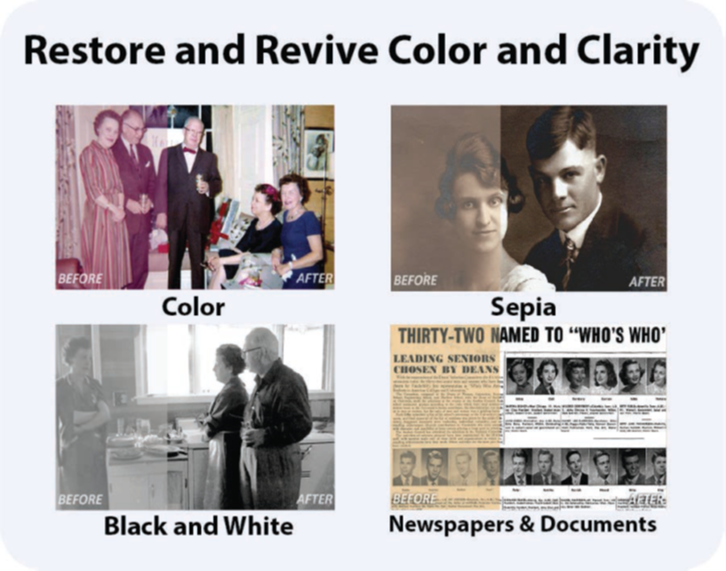 Flatbed Scanner – A document can be placed anywhere on the 11" x 17" flatbed, at any angle, and the ScanEZ Station will straighten and x that document. Patented book-edge de-signed to protect your book's spine and eliminates blurry or dark imaging in a book's gutter area.
Sheetfed Scanner – Scan both sides of the page in a single pass at up to 120 pages per minute. Will accommodate maximum paper size of 8.5" x 14" and minimum size as small as ID Cards.
The ScanEZ Station includes a web portal for centralized reporting.
Reports include usage statistics for single units, selected units or an entire ScanEZ fleet.
The portal tracks usage based on scan options, including document delivery method, selected format and colour settings.
Reports can be auto-generated and emailed on a recurring basis to any number of recipients on a monthly, quarterly, annual, multi-year, etc., basis.
Reports can be generated for accounting to reconcile billed services.
Reporting can be used to assist with workflow and equipment deployment strategies.
Full Access to Data Analytics/Reports at no additional fees for the length of contract.
ScanEZ Management Dashboard
ScanEZ Remote Access gives you instant access to every ScanEZ Station within your fleet, all from your desk or mobile device. No need to walk across campus or through a building when you can access the stations remotely.
Fleet Management
Auto Alerts notifies system administrator via email of any detected failures, even if power is lost.
Auto Updates – Schedule ScanEZ updates and upgrades or make feature changes remotely.
System allows for the management of Windows updates and upgrades.
Track inventory, hardware and software.
Test, trouble shoot and investigate reported issues from your desk as if you are standing in front of the station.
Provide staff and users with training remotely
The SurfBox maintenance program is designed to keep the ScanEZ Station up and running with minimal downtime. It includes unlimited telephone support and support for new staff training. All parts and labor are covered, including normal maintenance and consumables.
Full Warranty Coverage – includes full hardware and software coverage and can be extended for as long as you have equipment in service. First year full maintenance and support included with purchase.
Hardware Maintenance – Includes all hardware replacement, either same day or next day, as part of our standard support plan.
Software Maintenance – The SurfBox comprehensive maintenance program covers all software updates, upgrades and feature enhancements for as long as you own the product.
Industry Leading Functionality Included with Every ScanEZ Station
Standard 17" Touchscreen Computer — Commercial Grade AiO Touchscreen computer Intel Core I5, 8GB RAM, Windows 10 Pro, 120 GB SSD Multilingual Interface —easy to use software available in 25 languages.
Accessibility — magnifier, narrator and a high-contrast for visually impaired users.
Translation Service to Text & Audio — scan and convert up to 100 different languages in text or audio files.
Image Enhancement — Restore, preserve and share photos, documents, newspaper articles and historical records.
Enhanced Email Authentication – Gmail, Facebook, Outlook.com, Hotmail, and Office Live. Cloud-Service Authentication— Google, DropBox, Box, OneDrive and Office 365. Smart Copy Functions—with reduction and enlargement
ABBYY® Fine Reader Embedded OCR — ABBYY  Fine Reader engine recognizes 198 languages for OCR.
Single Pass LED Duplex Scanner Patented Book-Edge LED Scanner — scan full bed area. (11×17)
Flexible Charging — Multi-tiered discounts per output.
Web-Based Fleet Management & Reporting Centralized Manager — for statistical usage, auto-generated reporting, reconciliation of billed services, auto updates and alerts, trouble shooting and remote training.
Full Warranty Coverage — includes full hardware and software coverage and can be extended for as long as you have equipment in service.
Founded in 2004
Dedicated to Public Library Users and Staff
Pioneers in Print Management
R&D Specializing in Hardware and Software Development
On-demand Print and Copy, delivered with ease.